Introduction of Kinmen

Kinmen (Jinmen, Quemoy) is located about two kilometers off the cost of Xiamen, China. Its history goes back to the 1949 Chinese Civil war, so it is also referred to as the "battlefield island", which does not only mean it has a unique battlefield scenery but it also inherited its numerous historical buildings. We can find traditional southern Fujianese or Western style among these buildings, which recall the atmosphere of the ancient times.
What's on Kinmen?

Kinmen, the most unique of all the outlying islands of Taiwan has a nice and cozy atmosphere. With its white sandy beaches, picturesque hiking trails and rich cultural heritage and of course its delicious local dishes can assure you will have an unforgettable holiday.
Who should visit Kinmen?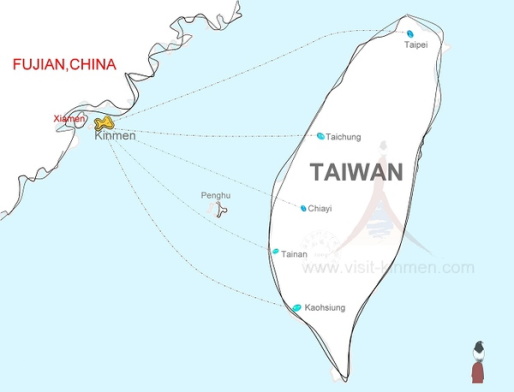 If you want to escape from dull everyday then Kinmen is definitely the best choice for you. The island can be reached within an hour by airplane from the major cities of Taiwan, and you will find yourself in an amazing historical world.
If you want to extend your staying in China but you have to leave the country due to the limitation of your visa then Kinmen is the closest and easiest way to extend your stay. Instead of Macau or other close foreign cities, Kinmen is the best choice for a quick U-turn.
The best time to go to Kinmen

Kinmen worth visiting all year round since the scenery is always changing. The weather is also extremely suitable, as the annual average temperature is a comfortable 21 Celsius degrees, from 12 Celsius during winter to 28 Celsius in summer.
How to get to Kinmen?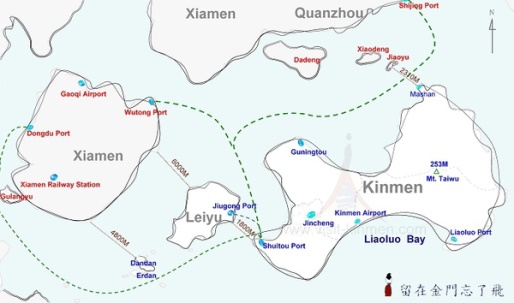 It takes only 30 minutes to get to Kinmen from the noisy Xiamen Wutong port, which is close to Xiamen airport. Another way is from Quanzhou Shijin port which also takes around one hour (Taiwan passport or foreigners hold valid visa to Taiwan). For visa applications please click here.
Welcome to Kinmen and discover her beauty with us!